We provide Sound Bath Therapy, Reiki Energy Healing, Mindfulness Coaching, Tarot Readings and Ancestral Services in Atlanta, Georgia. Description of all services below.
401 16TH STREET NW, ATLANTA, GA 30363 – Atlantic Station, Atlanta, Georgia
HOURS: Wednesday – Friday 4:00 pm – 10:00 pm and Saturday 9:00 am – 12:00 pm.
VIEW MY CALENDAR PAGE & BOOK YOUR APPOINTMENT HERE.
DESCRIPTION OF SERVICES
*NEW SERVICE* SPIRIT RELEASEMENT THERAPY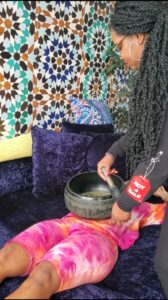 Spirit Releasement Therapy is an exclusive healing session curated to restore and rehabilitate the client back to emotional, mental and spiritual stability.
Exclusively for clients experiencing spiritual blockages, trauma, flashbacks, curses, reoccurring dreams, emotional and physical pain.
Have you noticed you just can't seem to get ahead in life? Are you emotionally drained? Do you struggle with sleep? Are you a magnet to attracting bad luck? Have you had "warning" dreams? Have you experienced any PTSD from the military?
If you answered yes to at least one of the above questions, this session is meant for you. I have worked for years perfecting this session with private clients as case studies and now for the first time this session is open to the public.
This session includes a combination of sound healing, reiki healing, crystal healing and ancestral past life healing. No two sessions are the same, it all depends on the client. After picking your appointment time, the screen following will ask you to answer questions to help me prepare for our session. Offered in 60 minute ($177) or 90 minute sessions ($255) Click HERE to schedule.
** This is a one-on-one individual private session. The participant is asked to wear something comfortable as you will be receiving the majority of the session while laying on a massage table. No children are allowed. No recording is allowed. 
SOUND BATH THERAPY SERVICES:
SOUND BATH SESSION – ONE-ON-ONE
A vibrational sound bath therapy session is an in-person session at our location 401 16th Street NW Atlanta, GA 30363 for $100 for an hour session. This session can be enjoyed by anyone of any age. Participants will enjoy the session by laying down either on a massage table while enjoying the soothing sounds of the singing bowls and other meditative instruments. This is a session for one person. Crystal bowls and Tibetan Bowls will be used.
Stress reduction is one of the most important results of receiving a vibrational sound bath therapy session. Sound Bath Therapy is so effective because it influences our emotional bodies as well as our physical bodies. Emotional imbalances are at the root of many physical diseases and when we heal our emotional bodies, the physical symptoms disappear. This session is good for anyone experiencing grief, anxiety, depression, insomnia, stress and so much more.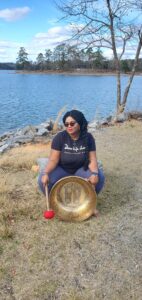 Full Body Clearing Session
Full Body Clearing is my newest session where you will get to stand inside my largest singing bowl and feel the vibrations of the bowls wash all over your body. A sound bath like no other. Video demonstration HERE.
This session is for an hour.
30 min inside the large Tibetan bowl
10 min of Tibetan singing bowl being placed on the body
20 minutes of crystal and reiki healing
This session is for one person. Appropriate for children ages 10 and up. Parent must be present with child during session. Session is $111 – book HERE
SOUND BATH BIRTHING EXPERIENCES + POSTPARTUM SESSIONS 
To date I have been in attendance for 50+ births. My sound bath birthing sessions include a sound bath for a minimum of 3 hours not to exceed 6 hours. The purpose of the session is to ensure that the mother has a soothing and relaxing labor and delivery. Most of these sessions are held in home or either at the hospital. The sessions are $100 an hour with a minimum of 3 hours not to exceed 6 hours. Due to not knowing when a baby will be born these sessions are booked differently and a consultation is required before purchasing this service. Email DearLifeChat@gmail for consultations. 
PRICING VARIES Click here for pricing for one-on-one sessions as well as Self-Care Group Parties.
MINDFULNESS COACHING SERVICES:
public speaking engagements on mindfulness & self care with sound bath $300 and up  For consultation email me at DearLifeChat@gmail.com
Mindfulness Coaching – one-on-one personal coaching for $50 per hour
READINGS AND ANCESTRAL SERVICES:
All virtual readings are typed and emailed. Images of cards pulled will also be sent with message.
EMAIL Reading descriptions:
Moon Reading gives guidance on shadow work, darker aspects of yourself that needs to be worked on and addressed so that you can be a fully balanced individual.
Jupiter Reading gives guidance on finances, jobs and expansion in business endeavors.
Venus Reading gives guidance on love, relationships, family, friends and self-love.
Self-Care Reading gives guidance on self-care, mindfulness and life coaching. 
Chakra Reading allows you to choose up to three questions or choose a general overall reading.
Ancestral Reading are readings where I can receive a message from a deceased loved one. An image of the deceased along with their date of birth and date of death must be emailed to me. Ancestral Reading turn around time is 24-48 hours.
MOON, JUPITER, VENUS or SELF-CARE READING $25 – book HERE 
CHAKRA READING – $50 – book HERE
ANCESTRAL READING – $111 – click here to book.
NOW YOU CAN BOOK IN PERSON READINGS!! AND SOUND BATH AND READING COMBOS.
ANCESTORS ALTAR SETUP 
This session is a mobile session where I will come to your home to help you set up your ancestor's altar. Everything needed to start your altar will be included. I will provide all materials and items that you can keep. A sound clearing and energy cleansing for your space is also included. The only thing you need to provide is the space where the altar will be set up at. For example, a table, small bookshelf, etc. This session is a mobile session for anyone living within Metro Atlanta to include the following counties: Fulton, Dekalb, Cobb, Gwinnett, Clayton, Cherokee, . Extra fee will be added to sessions further than these counties. Ancestral Altar Setup – $111
ENERGY HEALING REIKI SERVICES:
Reiki is a very specific form of energy healing, in which hands are placed just off the body or lightly touching the body, as in "laying on of hands." Reiki can also be done from a distance. In a Reiki session, the practitioner is seeking to transmit Universal Life Energy to the client. The intention is to create deep relaxation, to help speed healing, reduce pain, and decrease other symptoms you may be experiencing. 
Distant Reiki Session – 30 minutes at $50 – Reiki and Sound Session – 90 minutes at $225
Other Methods of Payment accepted via:
PayPal Email: msTayLang@gmail.com
Venmo: @Ottavia-Lang
Please confirm appointment before sending payment. No refunds on any services or deposits only reschedules within 30 days.
Donations are always accepted for the wellness center. CashApp to $DearLifeChat Thanks in advance!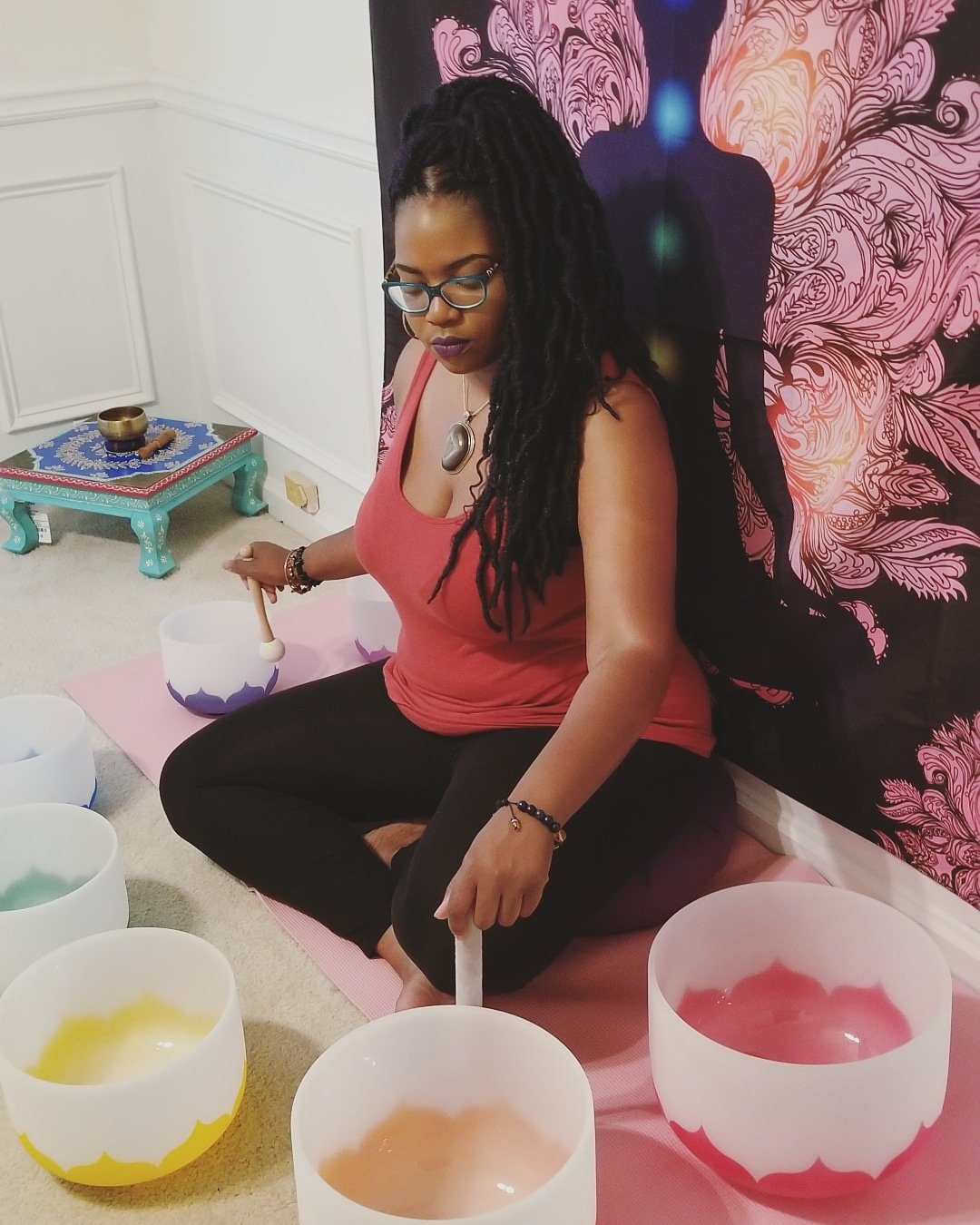 Website Google Search tags
Sound Bath in Atlanta – Reiki in Atlanta – Readings in Atlanta – Spirit Releasement Therapy in Atlanta – Self-Care in Atlanta – Crystal Healing in Atlanta – Sound Therapy in Atlanta – Ottavia Lang in Atlanta – Tay Lang in Atlanta – 5D Matrimony Album in Atlanta