We provide Sound Bath Therapy, Reiki Energy Healing and Mindful Self-Care Coaching in Atlanta, Georgia. Description of all services below. 
Located in Midtown Atlanta – 741 Piedmont Avenue NE Suite 300 Atlanta, GA 30308 
HOURS:
Tuesday – Friday 10am – 6pm 
Saturday and Sunday – 9am – 3pm
Mobile parties can be booked on the weekends after 3pm. Corporate Group Sessions and Event Bookings are available upon request. Email DearLifeChat@gmail.com
VIEW MY CALENDAR PAGE & BOOK YOUR APPOINTMENT
DESCRIPTION OF SERVICES
SPIRIT RELEASEMENT THERAPY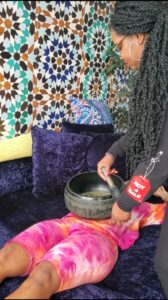 Spirit Releasement Therapy is  my most popular session – an exclusive healing session curated to restore and rehabilitate the client back to emotional, mental and spiritual stability.
Exclusively for clients experiencing mental blockages, trauma, PTSD flashbacks, reoccurring dreams, emotional and physical pain.
Have you noticed you just can't seem to get ahead in life? Are you emotionally drained? Do you struggle with sleep? Have you experienced any PTSD from the military?
If you answered yes to at least one of the above questions, this session is meant for you. I have worked for years perfecting this session with private clients as case studies and now for the first time this session is open to the public.
This session includes a combination of sound healing and reiki energy healing and any other recommendations needed to restore balance within your life. No two sessions are the same, it all depends on the client. After picking your appointment time, the screen following will ask you to answer questions to help me prepare for our session. Offered in 60 minute ($177) or 90 minute sessions ($255) Click HERE to schedule.
** This is a one-on-one individual private session. The participant is asked to wear something comfortable as you will be receiving the majority of the session while laying down. No children are allowed. No recording is allowed.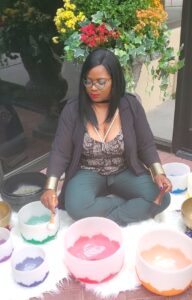 SOUND BATH SESSION – ONE-ON-ONE AND HEALING SESSION FOR TWO
A vibrational sound bath – Participants will enjoy the session by laying down while enjoying the soothing sounds of the singing bowls and other meditative instruments. This is a session for one person. Crystal bowls and Tibetan Bowls will be used. This session can be booked as a one-on-one private session as well as a session for two.
Stress reduction is one of the most important results of receiving a vibrational sound bath therapy session. Sound Bath Therapy is so effective because it influences our emotional bodies as well as our physical bodies. Emotional imbalances are at the root of many physical diseases and when we heal our emotional bodies, the physical symptoms disappear. This session is good for anyone experiencing grief, anxiety, depression, insomnia, stress and so much more.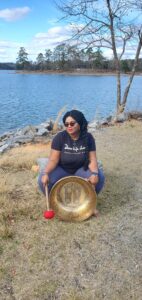 SOUND BATH BIRTHING EXPERIENCES + POSTPARTUM SESSIONS 
To date I have been in attendance for 50+ births. My sound bath birthing sessions include a sound bath for a minimum of 3 hours not to exceed 6 hours. The purpose of the session is to ensure that the mother has a soothing and relaxing labor and delivery. Most of these sessions are held in home or either at the hospital. The sessions are $150 an hour with a minimum of 3 hours not to exceed 6 hours. Due to not knowing when a baby will be born these sessions are booked differently and a consultation is required before purchasing this service. Email DearLifeChat@gmail for consultations. 
EVENT, PARTY AND CORPORATE SERVICES:
We currently offer Self-Care Sound Bath Parties as mobile options along with Tarot Reading Parties. 
Corporate and Event Bookings for businesses are also available local to Atlanta as well as traveling as an option. Travel fee for events/sessions outside of Atlanta is an automatic additional $500 For consultation email me at DearLifeChat@gmail.com
REIKI ENERGY HEALING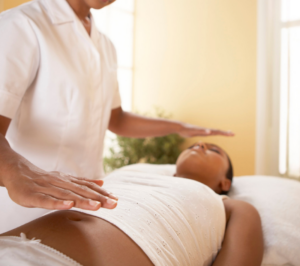 Reiki is a very specific form of energy healing, in which hands are placed just off the body or lightly touching the body, as in "laying on of hands." Reiki can also be done from a distance. In a Reiki session, the practitioner is seeking to transmit Universal Life Energy to the client. The intention is to create deep relaxation, to help speed healing, reduce pain, and decrease other symptoms you may be experiencing. Reiki is performed during the Spirit Releasement Therapy Session. 
Any travel events or sessions outside of Metro Atlanta is +$500 in addition to the session or event fee. email for inquiries for travel DearLifeChat@gmail.com Booking Page uses PayPal. Alternate Payment Method is: Cashapp $DearLifeChat
No refunds on any services or deposits only reschedules within 30 days.
Website Google Search tags
Sound Bath in Atlanta – Reiki in Atlanta – Readings in Atlanta – Spirit Releasement Therapy in Atlanta – Self-Care in Atlanta – Crystal Healing in Atlanta – Sound Therapy in Atlanta – Ottavia Lang in Atlanta – Tay Lang in Atlanta – 5D Matrimony Album in Atlanta